Jim Whitehead
Jim Whitehead opened his own law office in Seattle, Washington, on January 1, 2008, after spending many years in practice in three other Seattle law firms, where he served as a partner or shareholder. He has represented both plaintiffs and defendants in a wide variety of injury and wrongful death claims, including maritime casualties, motor vehicle accidents, and accidents on commercial properties. In his maritime practice, he has represented numerous marine underwriters, including most of the world's P&I Clubs, as well as leading seafood processing companies involved in the Alaska fishing industry, and has also represented Jones Act seamen, including Alaska fishermen and processors. Most of his personal injury work now is for plaintiffs. He has represented victims of medical negligence and malpractice and passengers injured on cruise ships and has also represented aggrieved workers who claimed violations of their civil rights and unlawful termination. In recent years he has represented domestic and foreign insurers in complex recovery cases involving damage to products during interstate and foreign transportation by land, air, or sea, and damage to perishables during controlled atmosphere or other storage conditions.
Nancy Whitehead
I find my immigration work gratifying in so many different ways for the help I'm able to give people who are truly desperate for justice. Below is a photograph of a client who was reunited recently at SeaTac with her two children, whom she had not seen for over a year.  Her immigration  application had to be granted before her children in Kenya could join her in the United States.  She was nice enough to send me the photo and also to write a very kind review of me, which follows the photo.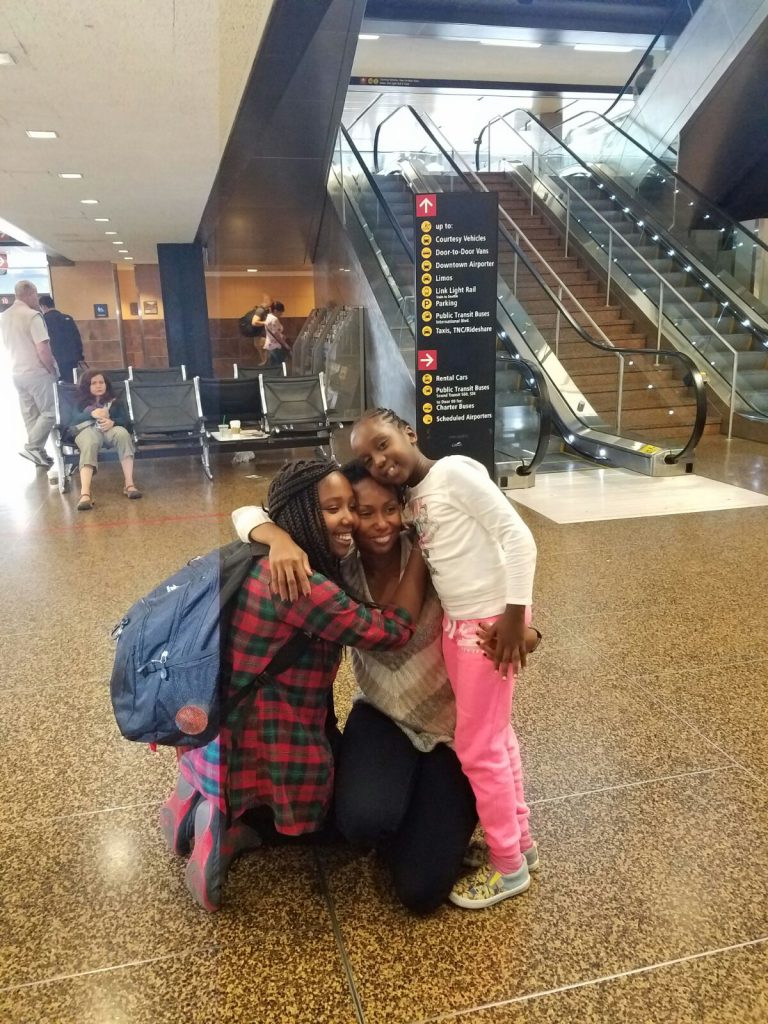 "Nancy has gone above and beyond my expectations for an immigration attorney. She is patient, kind, very well informed and has been extremely supportive throughout the process.  She has been extremely calm and always been willing to listen.  I highly recommend Nancy."
My husband Jim and I started this practice in 2008. We don't just go through the motions (forgive the lawyer pun, please) in our work.  We thoroughly enjoy what we do in trying to solve our clients' problems, whether big or small.  We provide free initial consultations to prospective clients who contact us, and we try to accommodate our clients and prospective clients by making house calls or meeting them at other locations more convenient to them than a trip to our office in Seattle, as their schedules and problems may require.  We really enjoy trying to solve problems for our clients and shouldering some of the burdens that are weighing them down.  We don't always have the answers when we start a representation, but we try very hard to get the answers and to provide informative and useful advice to our clients throughout the handling of their claims, and we are always willing to take the claims to trial if we are not able to resolve them by other means.
Below are a couple of other testimonials we have received from representative clients:
"Jim and Nancy Whitehead is a husband and wife team of attorneys that came to mine and my husband's rescue when my husband had been assaulted. They were wonderful and came to our home many times to help us with our case.  They were very professional and at the same time very kind, understanding, and caring.  We will forever be grateful to them for helping us settle our case.  They not only helped us but also our daughter who was injured when a motorist struck her as she was crossing the street in a crosswalk.  They also helped settle a case for our son who was injured when hit by a semi-truck.  It's good to know you have good attorneys to turn to and we're forever grateful to them both."
"Jim was my attorney in an auto malfunction suit that was strongly opposed by the auto manufacturer. From the first day Jim was involved and informative helping me to relax and believe in a positive outcome.  He was accessible and proved great at keeping me focused while managing my expectations and anxiety about the case.  Eventually a settlement was reached and I was well compensated.  Jim is an awesome attorney, a good man, and now my friend."